My biggest regret is out of my reach, something that I will NEVER, never, NEVER ever, in my entire life be able to right. My biggest regret is missing the era of the Carpenters. :(
I cannot say enough about the Carpenters. I have been for the past eighteen years of my life on an obsession with them, their music, everything. I have all their sheet music. An 8-track is framed in my room of "(They Long To Be) Close To You." They're first hit! I devoured a book about the life story of the Karen Carpenter, the origins and implications of the Carpenter's music within two days. I sing their songs. I have put together a medley of Carpenter's songs. I long to venture to California to attend the Richard and Karen Carpenter Performing Arts Center at the U of California Long Beach. I want to know Karen and receive one of the nicknames that she gave to every person she knew.
But I was born too late.
I can ramble on and on for hours about the mere thought of the Carpenter's. You'll have to ask me in person the next time you see me. To start, the thing that entranced me was the homely girl at the very beginning of their performing days.
There is something in her eyes, the way she moves that possesses so much more than a single feeling, a blank slate. There is emotion, years of neglect, an attitude that suggests that she has no insecurities but, at heart, she takes blow by blow without even a single moment to come up for air.
People say that the best voices sound like silk. Karen's was far better than silk. It was velvet. It had rawness behind it that none other could EVER parallel. It had a story, an inexpressible mystery that no one can figure out to this day. She is the
best
voice that has ever graced
any
stage. Richard is the
best
pianist that has laid fingers to a board. They are the
best
duo. Do you know that, according to many sources, Karen and Richard's mother far preferred Richard over Karen? This fact seems so ironic considering that the
world
was and is still swept away with that voice. What a story, what a voice, what a legacy.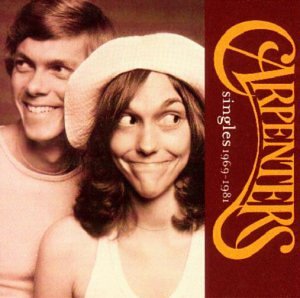 The last song Karen recorded before her death was "Now." They say that right before a swan dies, they make the most glorious sound, creating the term "Swan Song" as that magic thing that gives that last beautiful thing in anything's life. I agree when people say that "Now" was Karen's swan song. Recorded in one take as a rough demo, it was later produced with a full orchestra by Richard for a later album. But this is one of my favorites:

This will definitely not be the last post about the Carpenter's in my blog. It just makes me want to cry. And that's saying something.