This weekend, I went to the
Emerald
Twin Cities to see
the Wizard
Hamlet!
I know! Doesn't it seem like a whirlwind adventure?! Well, it was. :) Let me just go into depth...
Okay, so the first thing we, my school group and I, did when we arrived was go to a the "global market," which sounded a little sketchy to me. I dived in head first anyhow, and it turned out to be great! What it was was a bunch of little shops, some selling souvenirs from other countries and some selling treats from the U.S. and other countries, organized in an indoor bizaar kind of thing. And so I tasted gillato, Mexican Coca-Cola (yum!), Chinese sesame chicken (which I opted for over camel meat), and saw the footprint of an "unknown" worker who built the building it was held in (definitely something that was a little... odd. But cool nonetheless!).
From there, we headed over to a sculpture garden at the Walker Art Center that was just to die for! You know that iconic sculpture of a spoon bridge with a giant cherry on top? Here's a picture: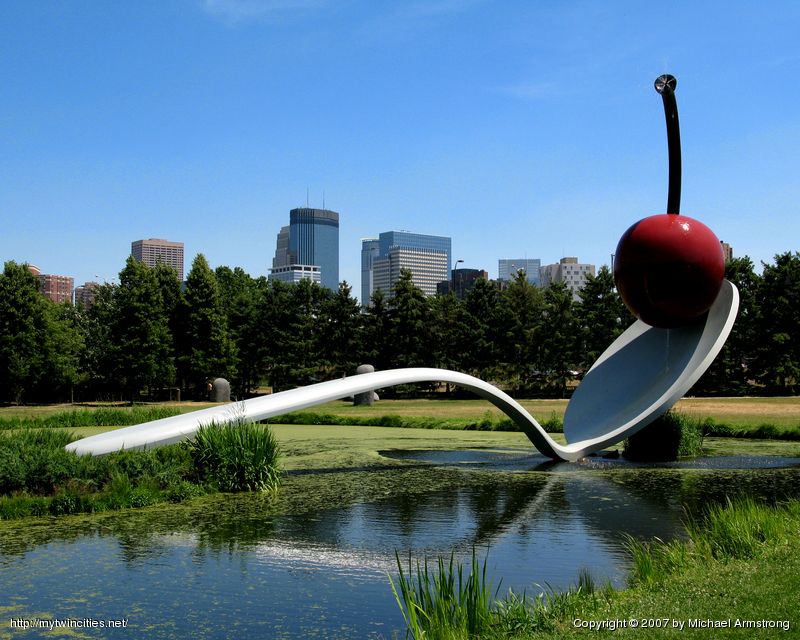 Well, that was there! "Yes. I saw it with my own eyes. No autographs please." :) But seriously, it was really cool, among a bunch of other fantastic pieces of art, both kinetic and static. Hint, hint: Frank Gehry's glass fish was there, too. Fun fact: Frank Gehry appeared on an episode of
Arthur
!
Shuffling with a tad less life, we then went to dinner at an Ethiopian restuarant. In one word, it was... interesting. I hadn't tasted Ethiopian food before, and I was rather apprehensive. I wish now that I had taken a picture. In lieu of such, you use a spongy pancake-y piece of bread to pick up pureed type meats and vegetables. It was quite good. I'd recommend it for the experience itself. As for the conversation, I had fantastic company!
And
HAMLET.
Holy cow. Ring the bells! It was so phenomenal. It may seem weird, but I had never really discovered the story of Shakespeare's play about the Prince of Denmark before this experience. I was not disappointed. In a post-modern setting, this rendition captured my attention especially. Jungle Theatre. Minneapolis. Runs through October 9th. SEE IT! (It's also to be mentioned that I had a joyous time analyzing the crosses between
Hamlet
and
The Lion King
, which was based off of it.)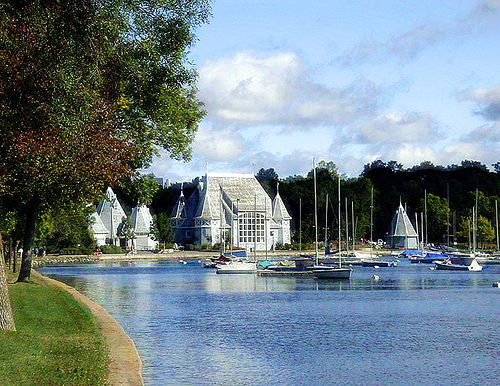 The next morning (today), I took a "leisurely" stroll around Lake Harriet, which is probably one of the most scenic places I have ever seen, especially because it's plopped right in a city. Given, there was little time and a LOT to take in. One thing that stuck out to me was a little stage area they had there. It was magnificent. If any theatre producers are reading this out there, it'd be a great place for a Shakepearean festival. Wink, wink. Maybe I just had
Hamlet
on the brain, though...
And then we went on a cruise down the Mississippi River. Enjoyable, laid-back, and friendly would be three words to describe it. However, I kept on waiting for them to play Tina Turner's "Proud Mary" over the loud speakers. It never happened.
And then we came back. Overall, I believe that I dipped my toes in a lake (Not Lake Harriet) of culture. It was an amazing experience. Yay for honors!
In addition to this amazing adventure, I finished reading another book! Three cheers for travel reading time!
'Til next time!