Now Closed!

*You can go to "Giveaway" tab to enter now!
Okay, so I wanted to do something nice for those who are following me as well as invite some more people to share in the revelry that is "The Habermann Press." So on this, the week leading to my 100th post, I decided that I would do a giveaway! And here it is! Thank you so much for coming and celebrating this moment with me!
So here are the five prizes (all separate) that I'm giving away this coming week! You can sign up between October 15th-22nd,
(I'll randomly open up links as the week goes on, so keep a look out!)
and the winners will be announced when I contact each one via email to notify them. So make sure to sign up for something if you want it because I know that everyone likes free stuff, right? :) Well, here we go!
*These are available for U.S. residents or those with U.S. mailing addresses. I'm not able to mail internationally. I am not responsible for lost mail.
Prize #1: [Softcover copy of Julie and Julia by Julie Powell]
Convenient for bloggers everywhere, the story of
Julia and Julie
traces the autobiographical of the one year journey blog of Julie Powell, as she cooks her way through Julia Childs's
Mastering the Art of French Cooking.
I found this book to be phenomenal and inspirational to the blogger in me. See my review
here
.
Prize #2: [Hardcover copy of Tale of Two Cities by Charles Dickens]
Tale of Two Cities
is the book that has sold the most copies in the entire world, beating out
Harry Potter, Twilight,
and even
Lord of the Rings.
I've never read it myself, but I have two copies and it
is
a classic story. Therefore, here one is: up for grabs! It's also the Coralie Bickford-Smith edition!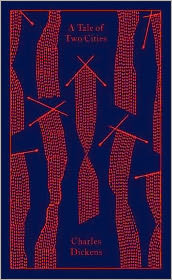 Prize #3: [Hardcover copy of The Short Second Life of Bree Tanner by Stephenie Meyer]
This
Twilight
Series novella of
Eclipse, The Short Second Life of Bree Tanner
was something that I purchased about a year ago. I read it, because I had to complete the "Twilight circle," and found it quite interesting. But I want to pass it onto one of you lucky pupils! So here is your chance!
Prize #4: [An 8-pack of greeting cards from

Ice Box Cards

by Dik LaPine]
At the very beginning of my blogging adventure, I blogged about this amazing card line and cartoon artist that I personally know and enjoy. A link to the post can be found
HERE
. Well, when I ordered up my own set of cards, I was lucky enough to receive bonus! I want to spread the word about this great company as well as let you know and enjoy his art. So here's your chance to win a pack of cards that highlights Minnesota perfectly in my mind. I just had to share these wonderful creations with you. A link to the card website for buying purposes (because I know you can't just sit around waiting!) is found
HERE
as well as a
link
to the facebook page for you to "like."
Prize #5: [$10 gift card to Barnes and Noble Booksellers]
One of the things we love the most is choices. We love to have the ability and luxury to decide. Well, here I am providing you with this opportunity! Enter for this prize and you may win an electronic gift card to Barnes and Noble, which you can spend online or at a store near you! I know I'd love to keep it, but this is for you guys!
Remember that entry closes at 11:59 p.m. Central Time on October 22nd, 2011!
'Til next time!